Now is the ideal time to improve your backyard so your family can enjoy spending time outside during the summer months. The question, however, is should you add an Oklahoma stone patio or a wooden deck? If you want a space that you can enjoy for years to come with little maintenance, the answer is stone.
Oklahoma Stone vs. Wood
While the price points are different, there are many advantages to choosing a stone patio over a wooden deck. When it comes to building materials, you simply cannot beat the longevity of Oklahoma stone OKC.
Wooden Decks
Wood is easily accessible, lightweight, and less expensive, making it a popular choice for construction. When it comes to longevity, however, you will face specific challenges. Wooden decks require a great deal of maintenance, including sealing and painting. Of course, water is the enemy of wood, even when it is treated. Given our Oklahoma weather, wood will deteriorate. Eventually, a deck will need to be replaced, which means that wood is not necessarily the cheaper option.
Oklahoma Stone Patio
When you build with stone, you have an investment that will stand the test of time. Oklahoma stone is not only durable and long-lasting, but it will also complement any aesthetic. Stones are available in a variety of colors and textures. Whether you want soft creams, grays, browns, pinks, or blues, you can find it in stone.
Of course, the hardness and porosity of stone enable it to endure spring storms, ice and snow, and the summer heat. The longevity of stone extends to fire. It is naturally fire-resistant, which means that your patio is not likely to go up in flames if a lump of burning barbeque coal falls on it the way a wooden deck can.
One of the best reasons to choose Oklahoma stone OKC is maintenance. As a strong, natural product, stone does not require constant sealing, resealing, or painting. In fact, sweeping your patio and rinsing debris off with a hose will help keep it looking like new throughout the year.
Creating the Perfect Patio
The strength of a stone makes it much easier to create the outdoor space of your dreams. Stone will easily hold the weight of a fire pit or fireplace. Consider an outdoor kitchen or fountain for your patio if you want to go all out. As you can see below, the options are endless when it comes to creating your outdoor space.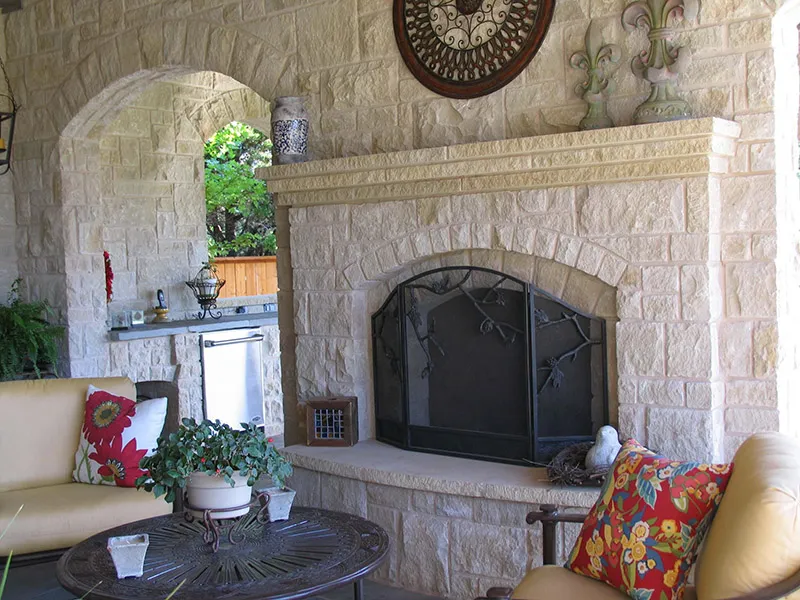 The best thing about stone is that you can use it to create other outdoor projects to complete a cohesive look or create contrast within the space.
When it comes to choosing a building material, you will never go wrong with stone. If you have any questions about the best selection for your patio needs, please reach out to the team at Richburg Stone. We would be happy to help you create the ideal space to relax this summer. You can also visit our showroom to see our vast stone options for yourself.