You might think that Oklahoma stone OKC is cost-prohibitive. However, flooring stones OKC are worth the investment, particularly when you consider the benefits of OKC stone and rock. When you are considering stone flooring, you will want to choose one that has the durability to meet the needs of your project.
Durable Flooring Stones OKC
Why Not Marble?
Some people automatically equate stone flooring with marble. However, it is not always a wise decision, particularly if you want to install it in high-traffic areas or carry it from indoors to outside. Not only is it costly, but it is also slippery and brittle. If brittle marble tiles shatter from golf ball-sized hail, it will be a costly repair. Additionally, a cold and slippery surface can be an accident waiting to happen.
Why Limestone?
Natural flooring stones OKC have a timeless elegance that you cannot create with other building materials. Limestone is a sturdy Oklahoma stone OKC that you can safely install indoors and outdoors. Whether you need indoor flooring, stepping stones, or paving stones, this OKC stone and rock will do more than hold up under pressure. It will also look elegant and complement any aesthetic. Limestone is available in various colors and hues, including grays, buffs, and blue stones. You can also polish limestone to give it a contemporary look that resembles some types of marble.
This Oklahoma stone OKC gives you the best of both worlds. As a traditional building stone, it is durable. However, it is also naturally resistant to mold and bacteria, making it an ideal stone indoors, particularly in spaces prone to retain moisture, such as the bathroom. Not only is limestone a natural germ repellent, but it also is simple to clean and maintain. Outdoor spaces, like the one pictured above, usually only require regular sweeping and rinsing. For indoor applications, consult your stone supplier, but a soft cloth and mild soap will typically do the trick.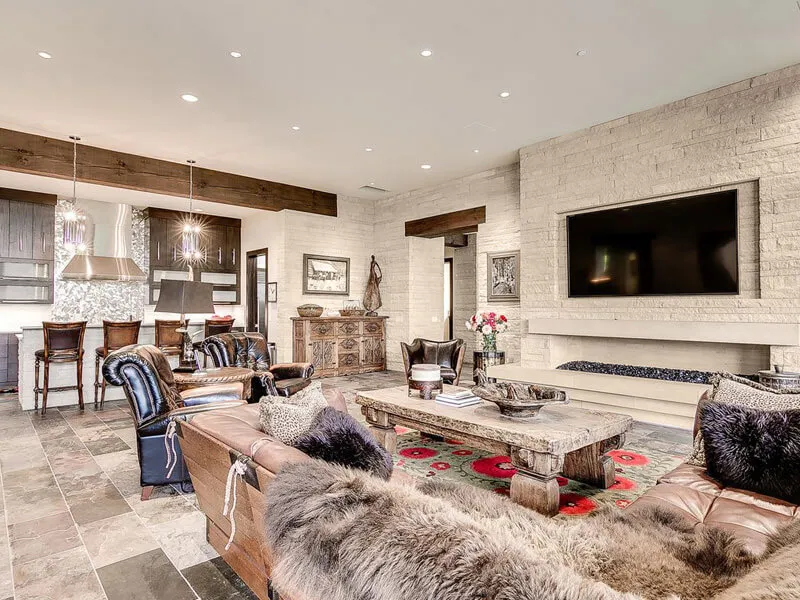 Versatile Oklahoma Stone OKC
We have already addressed the look of limestone, but its versatility makes it ideal for the entire home. As a building stone, it has all of the characteristics necessary to create a long-lasting home. Its strength, hardness, porosity, and toughness are not in question. It is also a fire-resistant building material, which adds another layer of safety. The properties of limestone mean that you can use it throughout your home with ease. For example, you can add a limestone fireplace or accent wall. You can carry the same color and tones throughout or use a contrasting shade on the floor to create visual interest. The versatility of limestone means that you can always find stones that will bring whatever your vision is to life.
We invite you to visit and view our selection of flooring stones. Whether you need a stone for commercial or residential use, our team can help you find the best choice for your project. If you have any questions, please feel free to reach out.
We look forward to helping you.