Nothing can beat OKC stone and rock for new house construction. Whether you need an Oklahoma stone patio or a new build, Oklahoma stone OKC is always a great choice when it comes to looks and longevity. When you are considering stones for your property, you will want to consider their different qualities to make the best decision.
Oklahoma Stone OKC Options
There are different options when you are shopping for OKC stone and rock, but not all stones will meet the criteria for construction. When it comes to building stones, many people choose limestone or sandstone because they have essential qualities of building stones and also come in various colors and shapes that look amazing regardless of the aesthetic.
OKC Stone and Rock Qualities for Construction
Hardness – A building stone must be soft enough to cut but hard enough to handle everyday wear and tear.
Compressive Strength – The ability of a stone to hold weight is compressive strength. It should be around 60 to 200N/mm2.
Toughness – Stones need to pass an impact test to be suitable for building.
Porosity – A building stone must have a lower porosity. If it absorbs too much water and chemicals, the stone is more likely to crack and become damaged.
Choosing the Right Stone
Whether you are building a new home or adding an Oklahoma stone patio, you will want a good building stone. Once you find a vendor who sells high-quality building stones, it comes down to finding the right product for your project. The best stone will depend on your taste as well as the needs of your project.
For example, the house above is a traditional home built with Chocolate Leuders and Regular Leuders. In this case, the stone carries through to the short wall surrounding the front patio. The cut and texture of the stone create an irregular pattern, giving the country-French style a charming feel.
Many Leuders limestones can also look attractive in more modern designs such as this Contemporary Cream Leuders build. While you still see some lovely texture from the stones, the cut and installation are more uniform. Using this cut and installation fits beautifully with the modern look of the house.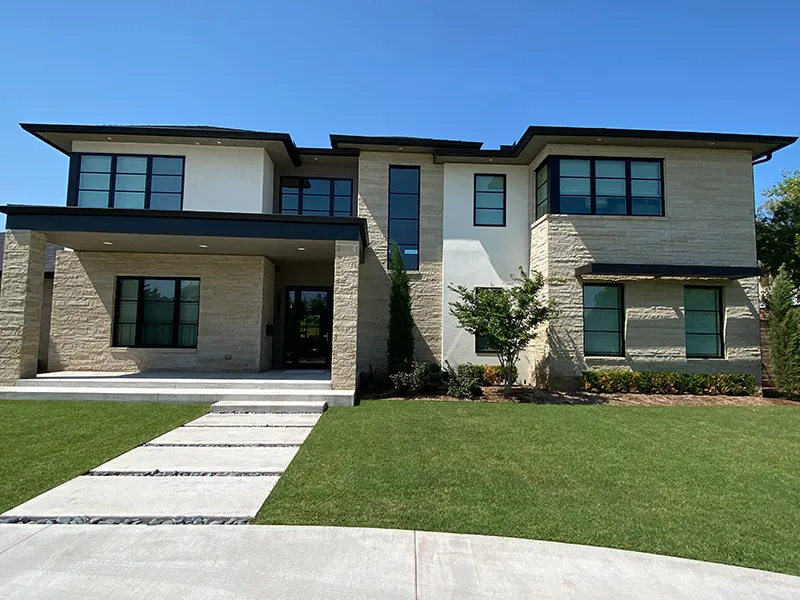 Other Uses for Stones
You do not have to build a house from the ground up to begin integrating beautiful stone into your decor. Along with building stones, Richburg stone has a variety of pool stones, flooring stones, and natural thin veneer options, which are ideal for interior projects that require a lighter product. Whether you are remodeling or upgrading to an Oklahoma stone patio, there is a stone ready to fit your style and the project scope.
As a building stone supplier in Oklahoma with the most extensive stock on-site, we have a vast array of limestone and sandstone building materials available. We invite you to visit our showroom or contact us to find the ideal stone for your next construction project. We would be more than happy to guide you through our extensive selection.