2020 and 2021 saw an increase in house renovations and interest in new home construction as people spent more time at home. As a result, the general trend for natural stone Oklahoma in 2021 is – calm. Neutral color palettes such as grey, tan, and white are preferred to darker color options. The natural hues of New York Bluestone Oklahoma City also make it an excellent choice for creating a calming atmosphere.
Natural Stone Oklahoma Trends
Floor to Ceiling Stone
A popular 2021 trend for natural stone Oklahoma is applying it to more interior spaces and taking the stone from floor to ceiling, as you see in the image above. Using stone in this way softens the room while adding an element of texture. The stone walls create depth and visual interest while still developing a sense of calm.
Natural Fireplace
Along with the walls, placing natural stones on the fireplace surround is an excellent way to bring the subtle beauty of nature indoors. Rather than a classic, carved stone fireplace, more homeowners are choosing the simplicity of cut stone to create an elegant yet relaxing environment.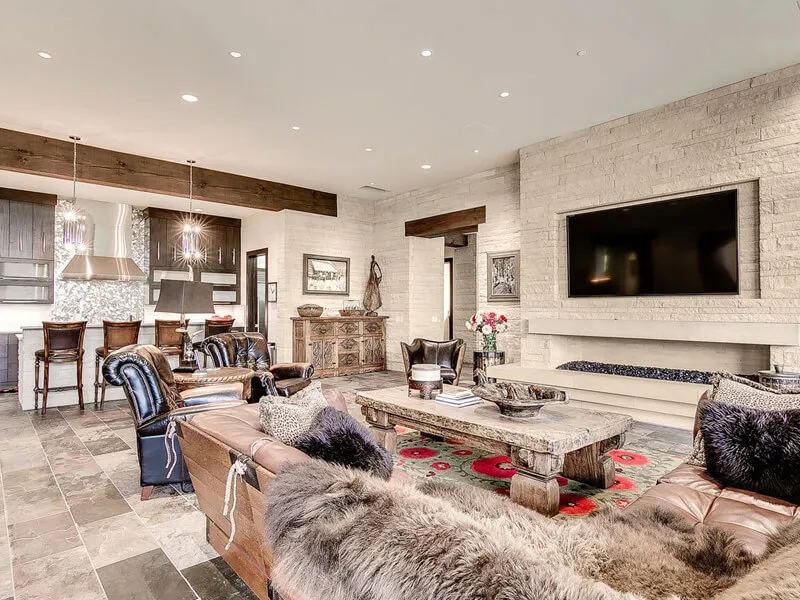 Wood and Stone
Wood and stone are a natural combination, and now they are a 2021 trend. Wood and stone can work together to create a rustic home or a modern look like the one above. The wood brings depth and warmth when it is used as an accent to the clean stone interior. If you are looking for a trend that will last, consider combining wood with stone.
Stone Backsplash
Stone in the kitchen is nothing new. However, more and more people are trading in tile for stone backsplashes. Stone brings an extra dimension to a kitchen design, and it has the durability to withstand kitchen accidents. Additionally, stone is easy to clean and maintain.
Bathroom Stone
Stone is a classic bathroom material. This year, a bathroom trend for natural stone Oklahoma is using larger cut pieces on the walls and floors rather than the smaller tiles of the past. This choice makes the bathroom feel larger, and less grout means that the bathroom is easier to keep clean.
Outdoor Space
Of course, we have to mention the trends for natural stone in outdoor space as well as the interior. More people are creating their own oases at home since spending so much time there. Naturally, this includes stone pathways in gardens as well as stone steps.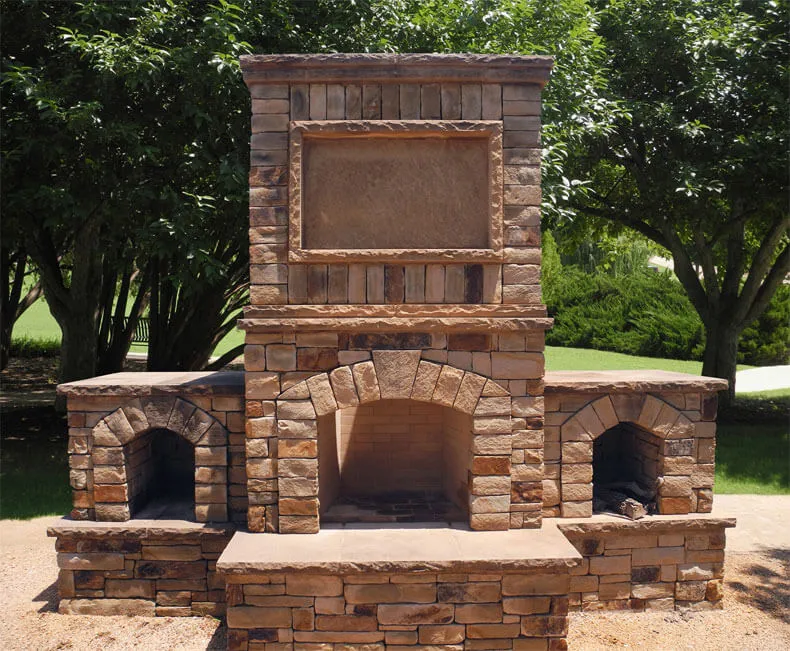 A growing trend is to improve conversation areas by combining the outdoors and indoors. Simple patios with a few chairs are transforming into entire outdoor living areas. Typical projects include stone firepits, natural stone fireplaces, and outdoor stone kitchens that take outdoor living to the next level.
At Richburg Stone, we maintain a large inventory of stone that will help you stay on-trend as you move forward in creating the current trends mentioned here, including New York Bluestone Oklahoma City. If you have any questions about a specific building stone, please contact us. We will be happy to help you find what you need.