Whether you are interested in a modern
farmhouse stone design OKC
or a contemporary home,
modern stone Oklahoma
will not let you down. The truth is that almost any
Oklahoma stone OKC
can work well for a modern design.
What Is Modern Stone Oklahoma?
When some people consider modern stone, they automatically think about faux stones. These processed products are created to look like natural stones. However, they lack many of the characteristics that you find with natural stone, including its durability and longevity.
Fortunately, completing your modern farmhouse stone design OKC does not require you to purchase dyed building materials that are likely to wear out.
Natural stone is perfect for modern design. The cut, color, and installation of the stone are how you create a modern building. Many contemporary designs use cleanly cut stones in whites, grays, and blue hues to accentuate contemporary features. Modern design elements include:
Geometric shapes
Asymmetry
Natural light
One popular trend is blending interior and exterior spaces. Carrying flooring stone through a house to a patio, for example, is the perfect way to create a contemporary home.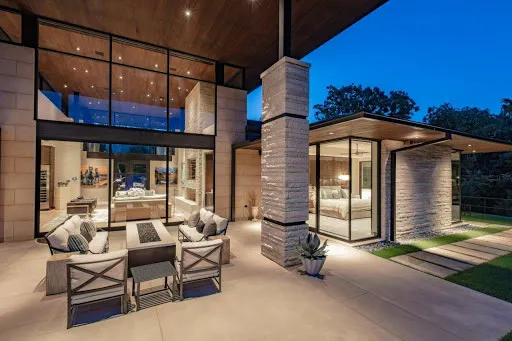 Why Choose Natural Oklahoma Stone OKC?
When it comes to choosing building materials, consider their longevity and beauty as well as their price point. Whether you need a building stone or a natural thin veneer, there is a stone for any project.
Faux vs. Natural Stone
The Look – Manufactured stones can come in almost any color, but their uniformity will automatically identify them as fake. Not two natural stones are the same, and these subtle differences in hues and veining create a lovely depth for any space.
The Durability – A natural stone will easily last longer than a faux stone. Not only are natural stones more durable, but you do not have to worry about the color chipping off over time or fading in the sunlight. You will probably need to replace the faux stone in 10 years, while natural stone will last a lifetime.
The Maintenance – Natural stone requires little maintenance. Water and scrubbing out stains with a bit of soap will typically do the trick. Faux rocks, on the other hand, cannot handle pressure from scrubbing or power washing.
The Price – The cost of a quality faux stone is not that much cheaper than the natural stone options. When you consider how much longer the life of a stone will be, it is the most cost-effective choice in the long run.
Another benefit of choosing natural stone is the resale value. Real stone will give you a financial boost that manufactured stone cannot.
Whether you are refreshing your home or starting a new build, Oklahoma stone OKC is worth the investment. Whether you want a contemporary farmhouse stone design OKC or something clean and modern, natural stone will ensure that your home is beautiful and built to last. Please visit our OKC showroom or reach out to discuss our selection of building stone and natural thin veneer. Our team is always ready to help you find the perfect stone.