When it comes to Oklahoma blue stone, many people think about classic flooring and pavers. In reality, this Oklahoma stone looks beautiful when used for anything from bridges and building construction to outdoor sitting areas and pools. So, why are so many people drawn to this unique building material? There is more than one answer.
Why Oklahoma Blue Stone?
Color
No other natural building material has the same look and color palette that Oklahoma blue stone does. The shades vary from darker shades of blue to lighter blues with grays, yellow, or ruddy hues, as you can see in the photo above. It is impossible to create a faux stone perfectly copies the same look and slight variation in texture and color of a natural blue stone.
Durability
Blue stone is known for its durability, including the ability to resist scratches. Additionally, this natural rock will easily adapt to weather changes. For example, it is unlikely to crack from snow and ice like other materials. The ability to handle weathering and resist water makes bluestone particularly popular for patios and pools.
Shaping
Developers and builders prize blue stone because it is a rock that can be uniformly cut into almost any size without sacrificing strength and durability. Whether you need a building stone, a flooring stone, or a natural Oklahoma stone veneer for decorative purposes, bluestone can be cut to fit your needs.
Diverse
The unique colors, textures, and ability to cut bluestone make it the ideal building stone that has the ability to match any aesthetic. Whether you want small, uniform blocks for a clean, modern look or irregular pieces for a rustic style, a natural blue stone will always fit the bill.
As a natural building material with charming irregularities that only enhance its beauty, bluestone will complement any natural setting. However, it will also stand out due to its unusual color and variations. As you can see in the picture below, the blue stone looks like it belongs against the greenery, while the texture and color variations create a unique visual interest.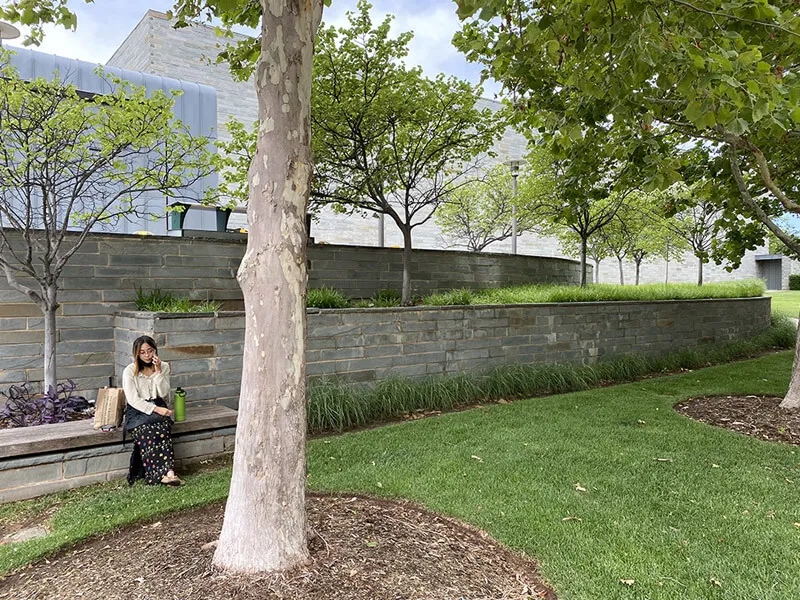 Timeless
One of the many advantages of using blue stone is the fact that it is quarried in the United States. Unlike some other options, there is no need to ship blue stone from other countries. For this reason, we have been using blue stone to build our nation for hundreds of years. When you choose to create a structure, outdoor space, or stone decor with blue stone, the result will be something timeless.
Maintenance
Like many other Oklahoma stone, blue stone requires very little maintenance to keep clean. Sweeping and hosing down your patio is typically all you need to do to keep your stone looking great.
No matter what you are building, you cannot go wrong with blue stone. Contact Richburg stone to see our selection of building stone, natural thin veneer, flooring stone, and pool coping. We will be more than happy to assist you in your next residential or commercial project.