A relaxing outdoor space comes to mind every year as the weather warms. If you are ready to create the ideal yard for your family, don't forget the OKC stone and rock. Stone is beautiful, durable, and will complement any landscape design. Here are some commonly used landscaping stones that are perfect for Oklahoma.
Landscaping Stone OKC
Flagstone
Flagstone is a well-used stone in outdoor projects. Its popularity comes from its wide array of colors and patterns. Additionally, these thin stones are easy to cut and ideal for a project that requires irregular shapes. A charming garden or rustic landscaping OKC stone and rock, flagstone is perfect for walkways, steps, pools, patios, and more.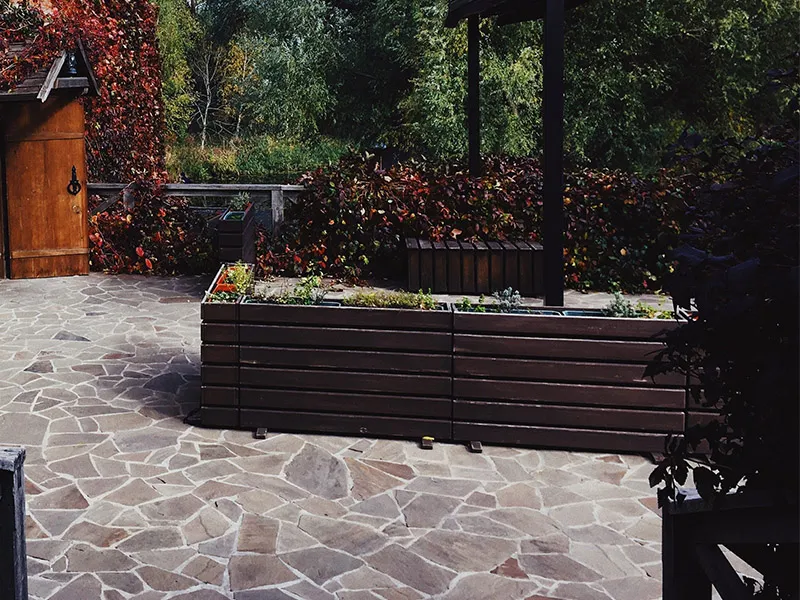 River Rock
If you want beautiful and functional stone OKC, you cannot go wrong with river rock. These large, smooth stones have much of the look and texture thanks to the rivers where they are found. Since these stones are much larger than gravel, they can be used in retaining walls, fountains, and decorative accents. Additionally, river rock is perfect for drainage solutions, such as French Drains or dry creek beds.
Limestone
Since limestone is a commonly used building stone, you might overlook it in your landscaping. However, limestone can be ideal in your yard, particularly if you want to complement the stone used to build your home.
LImestone is available in a wide array of colors, cuts, and textures. From creams and browns to grays and pinks, you are sure to find something that matches your unique, personal style. This OKC stone and rock is perfect for patios, walkways, half-walls, and more.
Sandstone
Another popular building stone, sandstone looks lovely in any garden or other outdoor area. As a sedimentary stone used in construction, this option will weather well and look amazing for years to come. You will often see sandstone in walkways or borders along with patios and pool coping. This textured stone brings an added depth to any space, and it is available in a variety of colors.
Like limestone, you can choose to match the stone used on your house, or you can opt for a contrasting color.
Bluestone
Bluestone has a long history in the U.S. Part of its popularity comes from its unique color variations. Less oxygen in the formation process causes shades of blue rather than brown and red. However, this natural stone can have red, yellow, green, and gray in it. You can use bluestone throughout your outdoor space. While it is not a color you often see in the wild, it complements a landscape beautifully.
Visit Our Stone OKC Showroom
No matter which type of stone interests you, make sure that you purchase quality stones, which you will find from an established and trusted stone provider. We have a vast selection of natural stones available. If you have any questions about building stone, or decorative stone options, we would be happy to assist you. You are welcome to visit us and view the stones that interest you in person.