Oklahoma stone veneer is an excellent choice if you plan to update your outdoor space for entertaining. It is suitable for a variety of projects. While you often see veneer inside, it can be used for a number of outdoor applications, including siding, decor, and outdoor areas for BBQ and entertaining.
Stone Veneer Oklahoma
Natural stone veneer is the same as building stone, only thinner and lighter. This means that it has all of the strength and durability of a rock OKC without the full weight of a building stone. Here are a few of the benefits that come with using veneer.
It withstands the elements better than wood.
Stone veneer adds depth and texture.
You can match your home's building stone.
It is easy to cut and stack.
Stone veneer is more budget-friendly than you might think.
Choosing Oklahoma Stone Veneer
Like building stone, natural veneer is available in a vast array of colors and textures, which means there is something for everyone. From soft buffs and grays to blues, browns, and pinks, stone will go with any aesthetic. So, how do you make the best possible choice?
Work with a reputable stone supplier – There are plenty of faux stones on the market. For the best in natural veneer, make sure to partner with a supplier that specializes in stone and stone alone.
Establish your aesthetic and colors – If you know that the stones you purchase are the best quality, your next task is determining your look. Are you working with the limitation of an HOA? Do you want a light, clean, and contemporary feel? Would you prefer a space with more rustic charm?
Choose your cut – Stone can be cut in different ways, and we can customize the shape of your stone with little to no extra cost. The cut will serve to enhance your chosen look.
Maintenance – Overall, natural stone requires little maintenance. However, you will want to choose a stone that demands less care for an outdoor kitchen or patio. For example, marble requires much more sealing and upkeep than other stones.
Once you have an idea about the type of rock OKC you would like, take a look at it in person when possible. Seeing the stone you are interested in using in the light of day will help you make the final decision. Remember that the beauty of natural stone comes from its range of colors. As you can see from the picture below, the pale stone has yellow hues to it that match the chairs.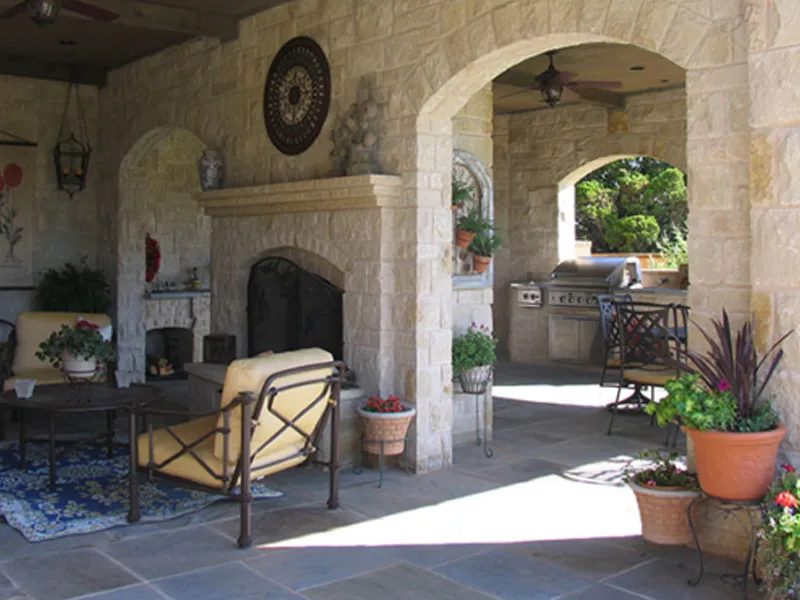 At Richburg Stone, we only stock stones from the best quarries around, and we keep a wide range of stone veneer Oklahoma. Our team is ready to help you find the best selection for your upcoming project. Visit our OKC showroom to take a look at the different stones that interest you so that you can make an informed decision. No matter what your design style is, you are sure to find the ideal stone.