Constructing or updating a pool requires the best materials if you want it to last. You cannot go wrong with pool stone Oklahoma City. Natural pool rock Oklahoma City is always a win, from the pool coping Oklahoma to patios. Here are a few reasons why you should consider using limestone for your pool and outdoor space.
Limestone Pool Rock Oklahoma City
Why Limestone?
Limestone is a well-used building material for several reasons:
Strength – Limestone has a compressive strength of 180 MPa, while concrete has a compressive strength of 30 MPa.
Shaping – While limestone is strong and hard, it is still soft enough to cut into different shapes for pool coping Oklahoma and other building projects.
Aesthetic – Limestone comes in a variety of colors and textures that work with any design. Natural tans, buffs, and grays can have hues of pink, blue, and rust in the veining.
Weathering – Limestone has the ideal porosity to handle the water and Oklahoma weather, making it a perfect pool stone Oklahoma City. Limestone is also suitable for high-traffic areas such as patios.
Safety – Not only does limestone last, but it also provides an element of security. The texture of natural stone is not as slippery as tiles and other building materials, reducing the risk of falls.
Limestone Pool Coping Oklahoma
Pool coping is not the place to cut corners. A substandard pool coping can lead to problems with the structural integrity of your pool and create safety risks. Coping is what keeps water away from the pool's shell. If water goes behind the pool walls, the structure is at stake. Pool stone Oklahoma City also helps carry some of the structural load, giving your pool the protection it needs.
Other Pool Coping Benefits
If pool coping breaks away easily, you and your guests can cut yourselves getting in and out of the pool. Keep everyone safe with coping that lasts.
A solid pool coping helps keep debris from falling into the pool, improving cleanliness.
If you want to add an automatic cover to your pool, the coping will simplify the process.
Why Pool Stone Oklahoma City?
If you use limestone for your pool, you can easily carry the look throughout the space. As you can see in the image above, the Midway Brown Tumbled stone gives the pool a charming, slightly rustic feel. The same stone appears on the house as well as the garden walls and patio. The result is a clean and cohesive look.
On the other hand, the pool coping and the patio below are different from the stones on the house. The sleek gray stones provide a textural contrast to the house while matching on gray in the building stone.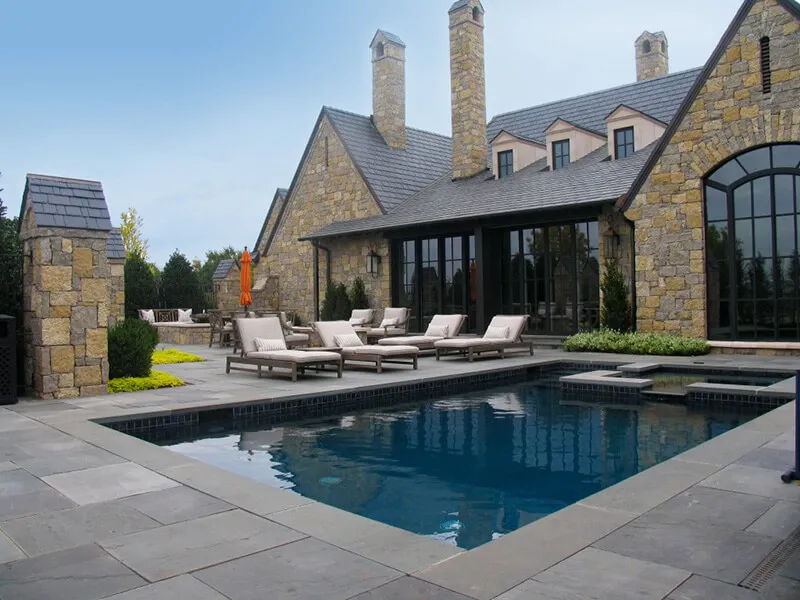 If you have any questions about pool rock Oklahoma City, please feel free to contact the team at Richburg Stone. We look forward to answering your questions and helping you find the perfect stone for your pool or any other project you may have. With our large selection of stones onsite, we are certain to have something you love.