If you are planning for any large projects, such as updating your home's exterior or creating an entirely new outdoor living space, it is essential to utilize the right materials for each part of the project. Due to its durability, strength, versatility, and beauty, natural stone and rock OKC is an ideal option for most outdoor projects. Depending on your preferred design style, you may wonder if sandstone is a good material choice.
Whether your project requires whole building stone, flooring stones, or thin natural veneer, quality Oklahoma sandstone is an excellent material for your outdoor space. Design and construction experts utilize this high-end stone for various landscaping projects, including patios, pool coping, fireplaces, columns, feature walls, and more.
What Makes Oklahoma Sandstone a Good Material for Outdoor Use?
Sandstone has many natural qualities that make it an ideal construction and decorative material. These qualities include the stone's:
Hardness: natural sandstone has a Moh's scale rating between 6 and 7, giving it the strength to last through the construction process and regular use.
Compressive strength: this factor measures the material's ability to hold weight, sandstone's compressive strength ranges between 90 and 140 N/mm2.
Density: this factor is measured in "specific gravity," quality sandstone has a specific gravity of 2.8 g/cm, or 124.8 lb/ft3.
Weather-resistance: natural sandstone is capable of withstanding rain, snow, high winds, and harsh sunlight without cracking, fading, or breaking.
Heat-resistance: sandstone has a high heat capacity, protecting features built from this material from heat, pressure, and impact.
Texture: this material's grain sizes and porosity create a unique texture that makes features built with sandstone highly slip-resistant.
Versatility: due to its various sizes, shapes, colors, and design capabilities, sandstone can be used for a wide range of outdoor projects.
In addition to these, natural sandstone can be cut into different thicknesses and retain its qualities, so it can be used for any part of your landscape. By sourcing your stone from an experienced supplier that works with reliable Oklahoma stone quarries, your project will further benefit from a guarantee of material quality and excellent customer service.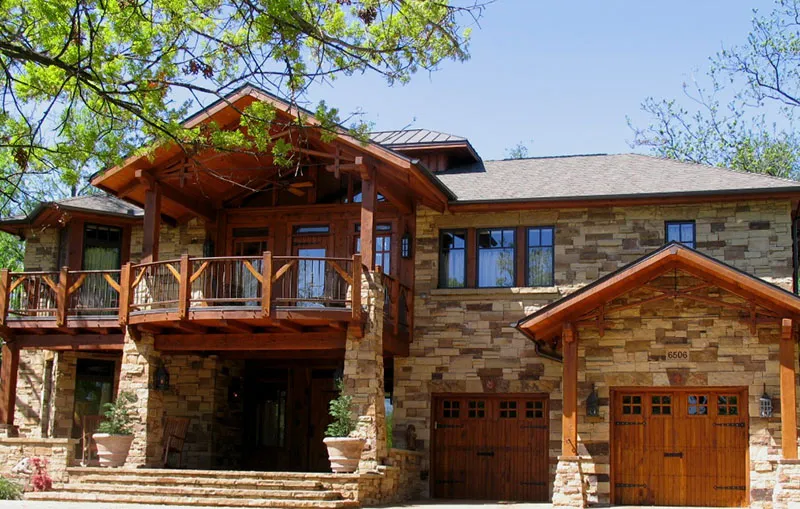 Sandstone is a natural fit for any home design style, including classic, contemporary, modern farmhouse, and rustic, as shown in the home above. Depending on your preferred style, your home's exterior may feature one sandstone color or be combined with different shades to create a unique stone mixture.
Your Source for High-Quality Stone and Rock OKC
As an industry-leading stone supplier, Richburg Stone supplies a wide range of high-quality sandstone varieties as both whole stones and thinner versions for cladding, flooring, and more. Because we partner with excellent Oklahoma stone quarries and carefully inspect each stone before delivering it to our customers, our high-end materials come with a guarantee of quality.
If you are looking for the right sandstone for your next outdoor project, browse the vast selection at Richburg Stone. Please feel free to contact us or visit our stone showroom in Oklahoma City. Our experts are ready to help you choose the perfect material for any large project in your outdoor space.